As you probably already know, it's better to start with a move action than a a brick and mortar location. However, out of all the mobile options on the market today, which mobile food cart vending bike is right for you?
Food bike, commonly known as vending bikes or cargo bikes. However, unlike traditional vending bikes, food bike come with the right tools to help you sell your food. food bike can be outfitted with freezers, refrigerators and sinks, similar to some food carts, to give you a proper mini kitchen setup. However, the difference between a food cart and a food bike is that the vending machine is connected to the proper means of transportation - a bike!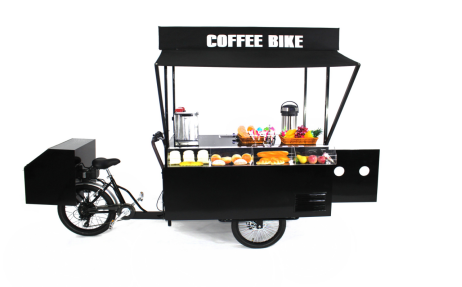 Food bike still lack certain qualities, like a full kitchen setup, which means your menu has to be on the smaller side. However, food bike are still the best of both worlds you get - offering lower prices and more flexible setups than food trucks, while still being more mobile and innovative than food cart.
With gourmet bikes, you can vending in parks and baseball fields, but you can also go further, and many bikes include pedal assist to make riding a breeze. Bikes are also a great way to attract customers. The concept is eye-catching, and a quick ride from one group of customers to another makes them feel like they're being served in the most exciting way possible.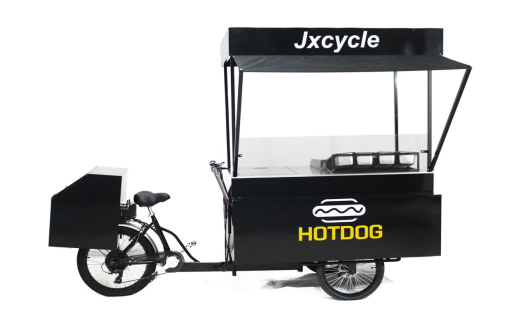 Why should you choose Jxcycle Food Carts and Bikes for your food vending business?
1. Selling food on a food tricycle is a positive business philosophy.
2. With a street food cart, you can stop in certain areas of your local area at different times of the day, which means you are always next to your potential customers.
3. You can serve food for different events such as weddings, sporting events or church gatherings on our food trucks for sale.
4. A food tricycle is a great way to start your dream business and make a living without taking out loans and years of waiting.
5. The United States is a diverse country, and the food vending business is their way out to freedom, happiness and a decent life.
6. You decide where you want to set up and how much you want to work.
7. Your mobile food business will be environmentally friendly.
Interested in the idea of a food bike vending cart? Contact jxcycle for a quote on some of the most innovative commercial vending bikes on the market. We look forward to discussing your business plan with you!