A food cart is a mobile kitchen set up on the street to prepare and sell street food to passers-by. Food carts are often found in cities worldwide selling food of every kind. Food carts come in two basic styles. One allows the vendor to sit or stand inside and serve food through a window. In the other, the vendor stands next to the cart, while all the room in the cart is used for storage and to house the cooking machinery, usually a grilling surface. The cart style is determined principally by the type of food.
Food Carts are smaller food stall and portable food station that used in an indoor shopping mall or outdoor vending space. Some of the mobile vending carts are pushed with four caster wheels while others are food bike vending carts to ride forward. The material used to build a food service carts are also various of the different usages.
Food vending is similar to the operation of food trucks or trucks. The food bicycle business is a fully operational mobile food service station. An environment-friendly, carbon neutral commercial multi-function vehicle for advertising, distribution and sales of food!
Our food vending truck is specially designed for food convenience - convenient, compact, food service delivery machine!
Jxcycle Tricycle has a long history of launching food bicycle business. We have customized a variety of food bikes, salad bikes, ice cream bikes and so on!
It's wonderful to send food and drink to the place where your stomach is rumbling! Jxcycle Tricycle beverage and food vending vehicle solution. We know about food. We know about vending. We know bicycles. Food bike!
Ride a drink bike or food bike to avoid the traffic of food trucks. A vending car driven by your feet! A vending car you can sell! An environmentally friendly, environmentally sustainable, carbon neutral business plan!
Launch and sell food. When you are ready to roll, please contact us – our bikes are fully constructed and ready to roll when they arrive! Whether as a mobile catering hotspot or as a catering delivery bicycle, it is a perfect way to create a unique catering experience.
In the food truck chain of accidents, you also have the upper hand! When people walk up and down to your competitors, you just jump up, go around and sell! Always sit in a comfortable seat!
Don't just be your own boss, be your own mobile boss! Jxcycle Tricycle Cargo Food Bike is a reliable and professional way of marketing, advertising and selling food and drink, with comfortable seats, 7 speed, flexible mobility and sufficient storage space in the front cargo compartment.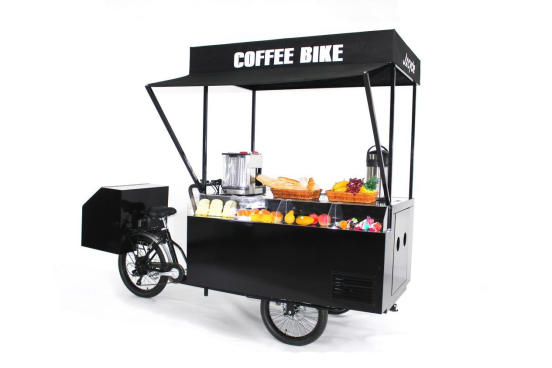 Our food bike is also a great tool to use as a delivery truck! Grab your dining car and use it as a special dining car! Absolutely perfect, whether it's loading the morning bread or pushing the car to the farmer's market. Excellent food delivery vehicle solution!
Use traditional large food trucks and trucks to avoid expensive electricity and propane costs. Keep away from static positions, bricks and mortar. Jump on and step on the pedal to the farmers' market, urban activities, parades, sports events, parks, public squares, etc.
A handmade, fully customized Jxcycle tricycle vending bike is the ultimate solution to meet your needs for food and beverage business on wheels!
Tricycle food bike business is a good way to get food! We offer a variety of custom build options for your food and beverage cart bike needs. We provide customized services to meet any style of you. Contact us to let your food bicycle business continue to develop.
Mobile food carts Stand is also ideal display fixtures for small food businesses. such as sweet corn carts, or cotton candy carts ,hot dog carts, or beer retail stands. What's more, Bike food-beverage carts is also perfect for public locations that do not have any representation of fast food, coffee or any beverage service. Such as airport, train station, metro station, city square, ground parks or interior showroom, museum, etc. Typically, Bike food carts are different from a food trailer or food truck . You can ride your food business into any places needed instead of waiting for the customer to come toward you.
Mobile beverage dink carts will make the business easy to handle and more efficiency. Moreover, food carts cost far less than an indoor kiosk while the profit is generous. Therefore, if you are new to a food business and want to start a kiosk cart. starting with portable food carts will be a great idea to go. Our food bike is Modular Design own a food bike ,you will own a Hot dog bike, Barbecue bike,Coffee bike in the meantime. Just Contact me,be your own Boss.