Eating on the streets is no more shameful. It's no secret that street food becomes somewhat high-end nowadays, especially in NY or CA. For example, we'd better eat some nicely cooked Asian dim sums, or a fresh sandwich "with heart" from a street vendor on a food bike who puts his soul into what he does, than to eat a tasty but not nutritious, not healthy and practically artificial big mac.
Different network cafes have flooded the world, and in any part of it you will have the same taste, without any hint of individuality, local piquancy or creativity in food.
However, we can change this and bring food industry into a qualitatively new level together! If you have something to offer to the street food market, we will gladly help you.
Food bikes is known as food cart, It is a fully operational mobile food service station, you can use it to sell Street Food or Drinks. If you want to buy food bikes, Jxcycle is the best choice. In order to meet the needs of customers, we also have hot dog bikes for sale, please contact us.

Food Vending Carts Powered by You! Pedal to Peddle!
Similar to the operations of a food cart or truck, a food bike business is a fully operational mobile food service station. An eco-friendly, carbon neutral, commercial utility vehicle to advertise, distribute, and vend food.
Advantage:
①The bike frame is shock absorbing which guarantees a smooth passage over the bumpiest road;②The most important is pedal electric food bike is environmental protection.
Frame + sink + cooling system + stainless steel basin + shed (with LED light tubes)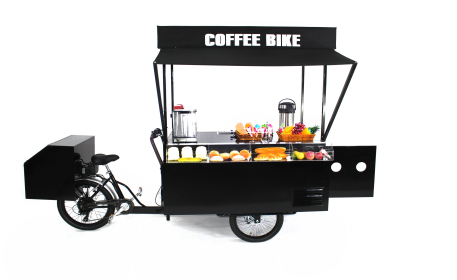 Similar to a food truck, with the following differences: (1) Equipped with a refrigeration system and a 70L small refrigerator ; (2) Frying pan, which can sell hot dogs ;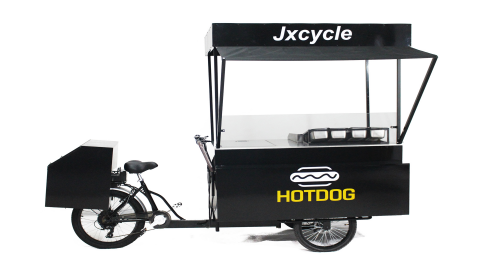 contact us with any questions about your food bike business needs, big or small! We are happy to share our food bike business advice!
Be your own business, your own boss, and get the food bike you really want. Why settle for prefabrication and franchise limitations! Your creativity is our limit! We offer a variety of custom graphic options to suit just
about any design need.