Avoid the expense and hassle of ice cream trucks or brick and mortar stores. Gasoline? No Way. Traffic jams? Ha. Expensive building? Rent? Static locations?Why?Be your own boss with an JXCYCLES Tricycle Ice Cream Bike!
JXCYCLES builds and sells ice cream bikes! The perfect low-overhead, environmentally sustainable, carbon-neutral, mobile ice cream business solution. We have a passion for ice cream bikes!
Ice Cream Bikes are ideal for catering events with cold treats. Ride in and hand out icy snacks at weddings,birthdays, family reunions, company team building exercises, or private parties in style! A perfect mobile business for farmers markets, sporting events, tailgate parties, or public parks. Or just roll out wherever you feel someone might be in need of a cool treat!
With a Ice Cream Bike, you've got a business that can be anywhere at any time, and without any fuel costs. Pedal-powered economic magic! It also makes you stronger. Strengthen your leg muscles, tone your abs, and exercise your motor skills——all while making money!

All Tricycles Ice Cream Bikes come fully equipped with:
①7 speeds – for those hilly places, or for when you need to get your treats somewhere fast!②multiple braking mounts – for a balanced slowdown and strong stopping power. ③easily customized, insulated box – for keeping your sweet treats nice and icy, and all day long!
A fully assembled commercial cargo ice cream bike ready to roll! Certified bicycle mechanic inspected,With both our standard and custom options, the JXCYCLES Tricycle Ice Cream Bike is easy to pedal and eye-catching! Prospective ice cream cart vendors are always surprised at how easy our ice cream trikes are to pedal!
All of our ice cream carts are hand-built and rigorously tested in-house, by a dedicated and knowledgeable shop build team.JXCYCLES with a strict build protocol to ensure a safe, properly operational, and easy to ride ice cream bike.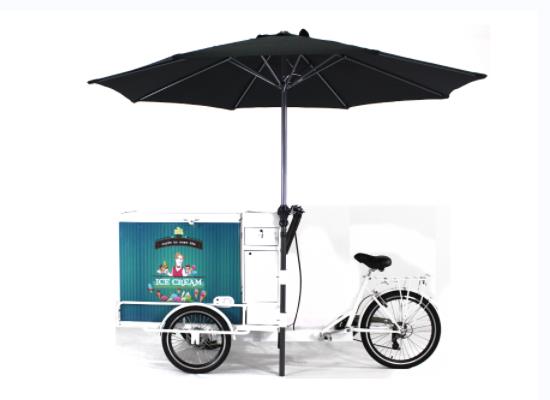 Safety and environmental protection:Equipped with a heavy-duty and powerful temperature-controlled freezer connected to the bicycle, and its brand-new solar panel function design is environmentally friendly.
Reinforced folding frame:The heavier frame and wheels have better stability and durability.
Self-contained cooling system:Using a dual-circuit system, our sustainable, environmentally friendly 240-liter refrigerator-freezer can run self-sufficiently for up to 10 hours.
Professional equipment:Add a spoon shower, cup dispenser or LED light bar to ensure safe and hygienic working conditions and always display your ice cream properly.
The best trikes parts:Our bicycles use the best components, such as a 500W mid-mounted engine, transmission and dual brakes.
Custom packaging:We can print any graphics, artwork or logos you provide, this is a great way to display your logo and decorate your ice cream bike!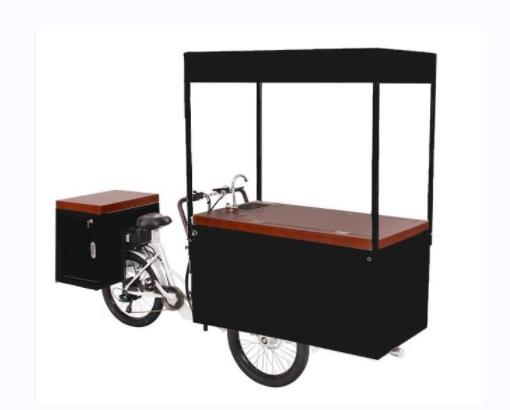 Freezers keep food fresh at low temperatures. Solar Freezers are powered by a solar system including solar panels, batteries and a charge controller. It is a popular product in developing countries and can be used in many power shortage areas.
Contact us with any questions about your ice cream bike business needs, big or small! We are happy to share our ice cream bike business advice!
Be your own business, your own boss, and get the bike you really want. Why settle for prefabrication and franchise limitations! Be your own business and be your own boss! Own an ice cream Tricycles machine. Your creativity is our limit! We offer a variety of custom graphic options to suit just about any design need.