Despite its long history and huge consumer base, this convenient, sustainable, and fun cargo bike remains prohibitive for large populations in the U.S. and the rest of the world. To help introduce those who are neither familiar with family bikes, we'll provide some tips on riding a cargo bike.
1. Confident attitude

All cargo bikes are designed with the highest quality components for the safest, smoothest ride. Riders should know they can rely on front and rear hydraulic brakes for top-notch stopping power, as well as other preventive features such as an advanced roll cage and anti-roll bars. With these protections in mind, a parent or adult cyclist can move with confidence and create a fun and safe ride.
There are many benefits to riding a cargo bike with confidence, but it's important not to take it for granted. Riding confidently means maintaining speed and not over-braking or knocking other cyclists and cars off the road. It also means avoiding driving in anxiety-provoking situations. If you feel uncomfortable at high speeds, reduce it until you feel confident again.
2. Approach speed bumps and other obstacles
The family cargo bike comes with premium, puncture-resistant tires front and rear. These high-quality rubber wheels perform well on a variety of surfaces, even in the most challenging weather conditions. Given the best-in-class characteristics of the wheels, the cyclist will feel confident approaching speed bumps, rock patches, potholes and any other everyday obstacle.
While families can rely on their family cargo bikes to perform well, it's still important to take the necessary precautions. Take your time through rough terrain and challenging weather. For your safety and your child's safety, don't panic. Also, if you've been riding rough roads for a while, take the time to check your tires, clean your bike, and perform other useful maintenance work.
3. Take necessary safety measures
There are a number of things to consider when riding a Family Cargo Bike. At the top of the list — take advantage of the safety features that come with every model. Strap the kids in with the three-point safety harness seat belts every single ride. Let the best-in-class hydraulic brakes do their job effectively, and give yourself plenty of time to come to nice, easy stops.
In addition to utilizing safety features included in a bike, it's also important to browse our cargo bike accessories for other protections. For harsh weather, consider protecting your little ones with one of our Fully Enclosed Sun & Rain Canopies. Check out more options for improving the quality of your family bike experience today.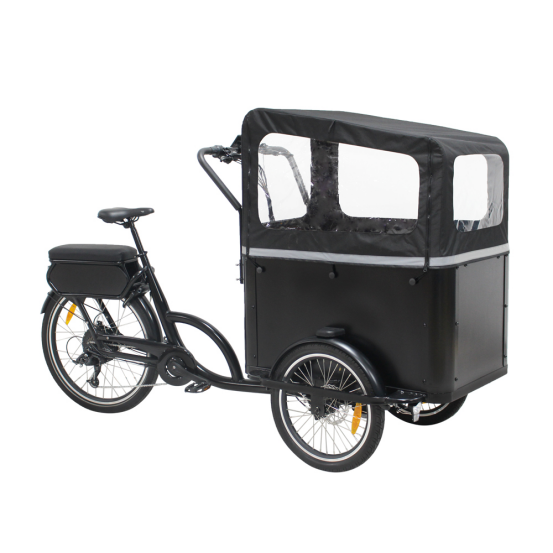 4. Leverage electrification support
We recommend everyday commuters opt for the e-bike versions of any of our family cargo bikes. Each of these models features original Samsung, Bafang batteries, rear hub motors and an intuitive pedal assist system. After a long day of commuting, errands and afternoon activities, opting for battery power is a luxury that every cargo e-bike owner takes very seriously. In addition to relieving a healthy but tiring stampede, it can also help families expand their travels. The Family Cargo E-Bike can be a vehicle for weekend getaways, long fun rides, and any other adventure that sparks the imagination.
5. Cycling on slopes,road crossings&slopes
While the bike's heavy-duty construction should provide a satisfactory level of safety, it is also important for the cyclist to take safety precautions when confronted with hills and inclines. When parking the bike on a slope, be sure to use the hydraulic parking brakes. In inclement weather and in unclear terrain, choose to work more slowly and cautiously. Keep making wide turns, buckle up your kids, and keep up bike maintenance for ongoing accountability.
6. Load up your family cargo bike
The spacious front compartment of Family Cargo Bike features a roomy structure designed to carry people and items with ease. Each of our family trikes has a combined load capacity of 350 pounds, which leaves room for countless combinations of rider, passenger and cargo. We recommend organizing your load based on your specific driving situation.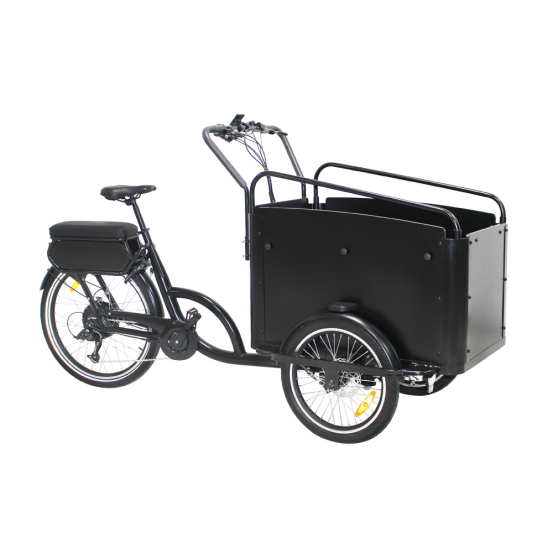 Buying a family cargo bike or two gives kids daily exercise, regular exposure to fresh air and prioritizes the value of sustainable products. These are values that benefit their health and the well-being of future generations. Parents pedaling while instilling good habits in their kids to get to and from school or to practice is also good for the mind and body.
Check out the Jxcycle cargo product page and take your first step towards buying a family cargo bike today. Your new ride is sure to greatly improve the quality of your everyday travel. To make sure this is the case, you can always refer to this list.