Hot dog carts rely heavily on foot traffic for revenue, so just like a retail store, location is key. With that said, a hot dog stand can be very profitable. According to a recent article by ABC News, a year-round hot dog vendor can earn a six figure salary.
If you can find the right location to base yourself with Your cart, profitability and return on investment will be really interesting. A sale of 1 hot dog sandwich and 1 Drink can make an earning about 3,5 € / 4 € on average.
For example, by placing you near a Large School or University, at the moment of greatest flow of students (interval or lunch break), you could sell a 80 sandwiches in 1 or 2 hours. So make You the calculation about How Much can produce a Little Hot Dog Cart (€ 3.5 x 80 = 280 €). with this simplistic calculation, we can already say that, if you will find the right situation / Location (and this depends only by you), In about 1 month you could amortize the investment.
Taking into account that you could move it in the afternoon in front of another school or park, and in the evening in an area frequented by young people (for example a disco or a Pub, for example making an agreement with the managers) could also double the income of the day.
Multiply that Daily Cash Value for about 15 business days in one month, taking into account that not always Weather conditions allow you to work outdoors. You must also keep in mind that hot dogs are sold well both in Summer and in Winter, and this type of Cart, can be easily converted into Itinerant Crepes Shop. Then you can quickly change from Hot Dog to Crepes depending on the situations.
So, of course it all depends on how much you are willing to commit and how much you'll be good at to figure out which location or situation may be the most suitable in your town. Among other things after a few days you will find more profitable locations, and so on. The important thing is to select good stations where there is a high concentration of people.
Handbuilt with uttermost performance and flexibility in mind, this is recognised as the most efficient and versatile Hot Dog Cart on the market.
Its perfect size, features and mobility open up a world of opportunities, as they enable the cart to be used just about anywhere.
Suitable for both outdoor locations and indoor venues, the Hot dog cart can be operated as a pop-up mobile diner, as a seasonal hot dog bike or it can be set up as a stationary hot dog stall in commercial establishments. The cart can also be rented to private events or run as a fully mobile catering business.
This adaptability makes the Hot Dog Cart an ideal solution for starting entrepreneurs as well as for established businesses aiming to further expand or to promote their existing services.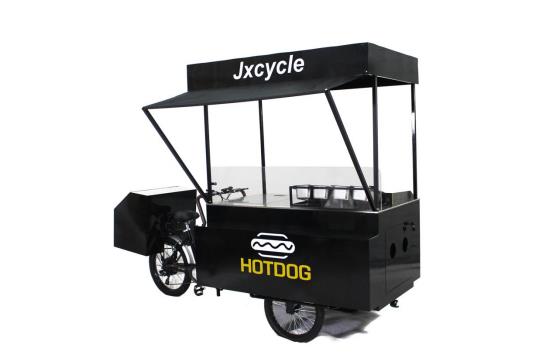 Standard Features
The Hot Dog Cart features a food-grade stainless steel countertop, interior storage compartments and open storage spaces. The standard model comes outfitted with a commercial gas-powered hot dog cooking system.
A SEAMLESS Work Experience
Following the simplest configuration to the most complex one, we designed the countertop layout to offer you a smooth and intuitive workflow. Whether you're cooking or serving your customers, we made sure that everything you need is within reach and, at the same time, nothing is in your way.Made to last, Hot Dog Cart is built of highest quality materials using cutting edge manufacturing techniques.
Technology Makes Things Possible. Smart Design Makes Them Easy.
How do you fit everything you have in mind within a compact steel frame? By thinking outside the box. Each of our carts combines the best of technology with smart design solutions to provide you with all the features you need, and more.
If you want to learn more about the hot dog bike, you can contact us through our website https://www.jxcycles.com/ .
Our customer support agents will contact you as soon as we get a query from you. We are dedicated to providing the good quality hot dog bike for you.